Keyphone And PABX Systems
A standard keyphone system is based on a PBAX server and an array of phones or extensions inside the company or from various providers. The telephone lines used as infrastructure for keyphone and PABX systems come from Telekom Malaysia, as well as from other telephony services providers. By suing such a system, a company can make important savings, as telecommunication costs will be very much reduced by the sharing of out-going phone lines and by inter-calls inside the company. Our solutions are based on NEC and Panasonic systems, powerful and featuring lots of useful functions. They are both excellent business solutions for handling telecommunications. Besides, they are cost effective and relatively low maintenance, so they are also very good long term investments.
NEC Keyphone SL1000
The NEC SL1000 Communication Server works best for home offices, small offices, startups and small to medium-sized companies. This solution is effective and affordable, equipped with all functions needed for IP telephony and other communication needs of a business. The SL1000 contains an entire office communication in the small volume of a box. It offers built-in voice messaging, toll restriction, caller ID and other functions, all packed in the Voice Response System (VRS) with Automated Attendant, Voice Mail and even an office guard function with alarm sensor and auto warning message capabilities.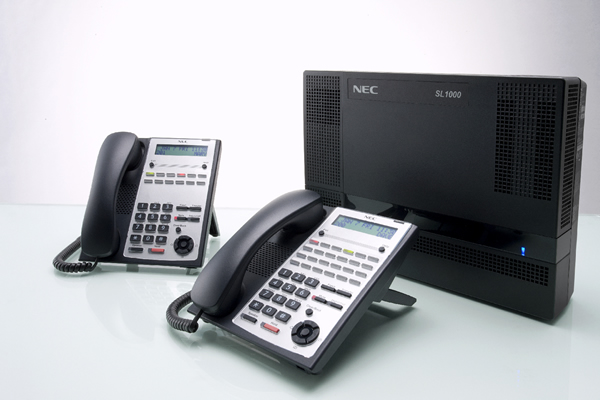 Panasonic Keyphone KX-TES824
This system caters well to small to medium businesses. It comes with a series of functions you can hardly find in similar products on the market. It features Caller Line Identification and it can serve up to 8 lines with a total of 24 extensions. This should be enough to cover all your telecommunication needs.