HD Analog Technology
HD Analog (AHD) technology lets you transmit high-definition video over standard coax cabling, and offers high-definition video quality for significantly less cost and complexity relative to a comparable IP solution. In other words, you can upgrade to HD Analog systems without replacing your existing cabling. All you need to do is to replace your Analog Cameras with this HD Analog camera.
Who Is Using HD Analog Today?
No matter what your home, business or industry is, HD Analog technology will deliver many benefits. HD Analog technology helps you get a better glimpse into your business operations and activities with greater details, clarity and resolution in live video mode and provides powerful tool to make better business decisions based on the ability to see your video footage more clearly. Take a look below at several areas of business where HD Analog is making a real difference:
Home
See your children, old parents and maid clearly
Retail
Clearer detailed live video of your employees and customers
Hospitals
Monitor operating room and procedures
Assist with remote diagnosis of conditions and illnesses
Banking
Capture detailed image of a suspect
Monitor safety and security
Bonded Warehouse
Monitor surrounding activities
School
Monitor student activities
Compare different HD Analog Technologies?
There are many HD Analog formats available in the market, including: HD-CVI, HD-SDI, HD-TVI and AHD. Although most of the HD Analog formats provide the same benefits when compared with IP or Analog solutions, each format has different unique set of features in terms of compatibilities and capabilities. Currently, there isn't any"winner" or "standard" format  yet. However it's very clear that certain HD Analog formats are at a stronger position. Let's look at the comparison table to see.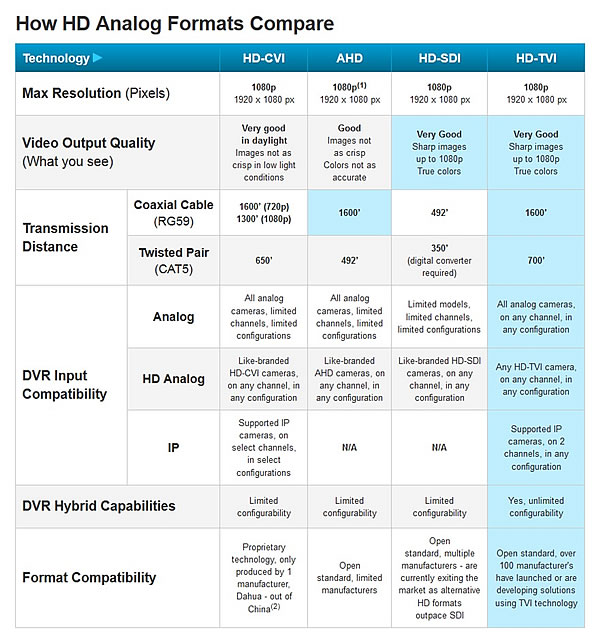 After comparing the formats and extensive testing of products from several manufacturers, we found that HD-TVI offers the best technology and value for the users.
The reason why We Don't Offer CVI or HD-SDI, but Do Offer TVI?
HD-SDI
We stopped offering HD-SDI around mid of 2013 and today every major manufacturer has left behind the technology, meaning that if you purchase them, you won't be capable to add a camera or find space parts later. We advise keeping away from HD-SDI because it is being liquidated.
HD-CVI
HD-CVI is actually produced by one company in Shenzen called "Daxxx", a Chinese manufacturer with really low quality controls and deceiving marketing. We won't sell HD-CVI in any way because it has similar problems with HD-SDI and is also only produced by "Daxxx" who have a history of making low performing product, advertising and marketing them in a deceptive way. They're saying that the product is 1080P NVR but it reality you can't do 1080P on each and every camera concurrently and need you to reduce the resolution whenever you want to record all of the cameras. Their products are only able to do 1080P at one out of four channels.
HD-TVI
HD-TVI camera is backwards compatible which is produced by many companies. We believe HD-TVI may become to new analog standard. It's backwards suitable for standard analog cameras and it's found in 1080P or 720P versions. The HD-TVI camera, 1080P version camera is also backwards compatible and suitable for HD-TVI 720P.
The HD-TVI was launched in 2015 January. HD-TVI is manufactured by a number of companies and it's the best choice that we do not see being discontinued and leaving customers stranded. We'll test numerous HD-TVI products prior to give any suggestions about that modern technology, however it has far more assurance than HD-CVI HD-SDI  have – which also is the reason why it's being implemented by virtually all of the companies as opposed to just one.
Advantages of HD Analog
HD Analog camera produces high-resolution mega-pixel security surveillance video recording at a small percentage of the cost of a equivalent IP solution, and it's as easy to setup and run like a classic traditional analog camera solution.
The primary advantages of HD Analog are listed below:
Mega-pixel Resolution – 1080p, 960p and 720p High-definition (HD) images produce forensic fine detail as well as digital zoom features for face recognition and also car license plate recognition.
Simple and Easy Installation/Setup – HD Analog sets up as quickly as a typical analog CCTV systems.
Cheaper Price – HD Analog provide mega-pixel resolution at a small percentage of the cost of a equivalent IP camera system.
0 % Latency – Track & monitor video in real-time, with no transmission slowdowns and delays generally seen with IP camera solutions.
Low Wiring Prerequisites – Transfer HD video speedy – along with great signal quality, over Cat5/6, RG59 or most traditional protected CCTV wiring.
Much longer Transmission – Transfer HD video as many as 1600′ throughout RG59 coaxial wire – 3x the length of IP camera solutions.
Transition Process Friendly – HD Analog systems are suitable for pre-existing CCTV video cameras as well as coaxial wires.
Best Sellers (Camera)
Samsung HD Camera
SCO-5083R, SCO-L2043R, SCO-L2033RP, SCV-5083R, SCD-5083R, SCD-L2023RP,
SCD-5080, SCV-5085, SCV-5082, SCD-5082, SCD-5030, SCD-5020, SCV-5083, SCB-5005
Hikvision Turbo HD Camera
DS-2CE56C5T-IT1/IT3, DS-2CE56C5T-(A)VPIR3, DS-2CE56C2T-IT1/IT3, DS-2CE56C2T-IRM, DS-2CE56C2T-IR, DS-2CE56C2T-IR, DS-2CE56C5T-(A)VFIR, DS-2CE16C2T-IT1/IT3, DS-2CE16C2T-IT5, DS-2CE16C2T-IR, DS-2CE16C5T-IT1/IT3, DS-2CE16C5T-IT5, DS-2CE16C5T-(A)VFIR3
Avtech HD Camera
AV450A, AVT553A, DG205B, DG105A, AVT503SA, DG206A, DG104A, DG105SE, DG103A, DG102A, AVT420A
Super Guard HD Camera
SG-IR98, SG-IR99
Best Sellers (DVR)
Samsung HD DVR
SRD-1676D, SRD-1642
Hikvision Turbo HD DVR
DS-7204HGHI-SH /DS-7208HGHI-SH /DS-7216HGHI-SH, DS-7204HQHI-SH /DS-7208HQHI-SH, DS-7304HQHI-SH, DS-7308HQHI-SH, DS-7316HQHI-SH, DS-7304 HGHI-SH, DS-7308 HGHI-SH, DS-7316HGHI-SH, DS-7324HGHI-SH, DS-7332HGHI-SH, DS-8104HGHI-SH, DS-8108HGHI-SH, DS-8116HGHI-SH, DS-8104HQHI-SH, DS-8108HQHI-SH, DS-8116HQHI-SH
Avtech HD DVR
DG1004, AVT204, AVT208SE, AVT216SE
If you are not sure which AHD or HD camera are best for your needs, our well trained staffs will be happy to assist you to insure you have everything you need. For more information on designing and installing a HD Analog System, please click here or phone us on 03 – 8062 5891 or 012 – 405 8791