What's an Autogate?
The autogate is an installation on a gate to open/close it automatically. This device is a convenient tool for car owners and the entire household because you can control when you leave and/or enter your home.
Commercial autogate devices are remotely-operated which means you can use the remote from inside the house or from your car once you get home. Just press a button and you can open or close your gate from a distance. If you're tired from all the work at the office, you won't experience the additional stress of manually opening and closing your gate because you won't need to step out of the car to do it. Rain won't be a problem as well, park your car easily with an autogate system.
People think that owning an automated gate system like the autogate is a luxury when in fact there are many more reasons that point to it being a necessity for every home.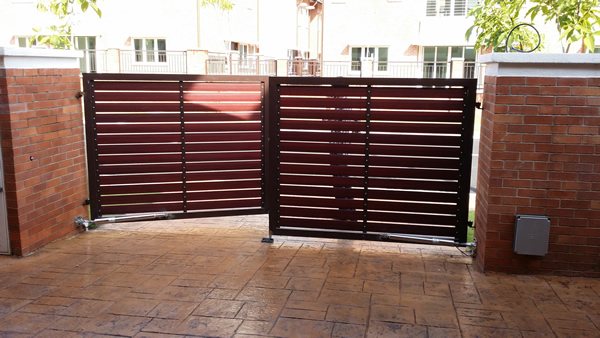 This device isn't just convenient it also keeps your property secure since your gate only opens using the remote which reduces the risk of a break-in on your home. The automated gate also brings a level of assurance for the security and protection of your home.
Different Autogate Systems
There are four main types of autogates – sliding autogate, arm autogate, pillar mount autogate and underground swing autogate.
A total of four autogate systems are currently available in the market. They are the sliding, arm, mounted pillar, and underground swing autogate systems.
Sliding Autogate –The motor in this system opens and closes the wheeled-gate by sliding it left-right or vice versa.

Swing Arm Autogate (Folding Gate) –This autogate system has a motor-controlled arm which acts as the lever to open/close the gate in or out.

Mounted-Pillar Autogate (Swing/Fold Gate) – A similar type of system however the gate is attached to a pillar. Swing or Fold type gates are perfect for this system. Fold-type gates ideally have 3-meter leaves for the system to work effectively.

Underground Motor Autogate (Swing Gate) – The underground motor is used for Swing gates that open up or down. The motor is hidden and owners won't need to alter anything on their gate to fit it. This is the least popular system among the four.

Autogate Buyer's Guide – Choose the Right Autogate System
Before choosing the type of autogate, you have to learn the mechanics and measurements of your gate at home. First time buyers won't go wrong if they go for well-known brands like OAE and SGmatic.
The following is a checklist of details for you to be able to choose the right autogate systemyou're your home.
Gate Mechanics: Swing, Fold or Slide?
Gates typically open or close three different ways, (a) swing, (b) fold, (c) slide.
Swing gates work similar to how a door opens or closes in your home.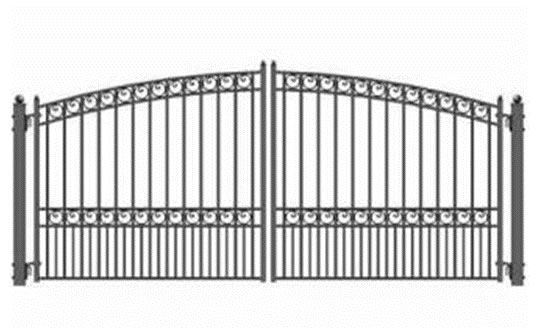 Slide gates come with wheels and a track. They also open from side-to-side.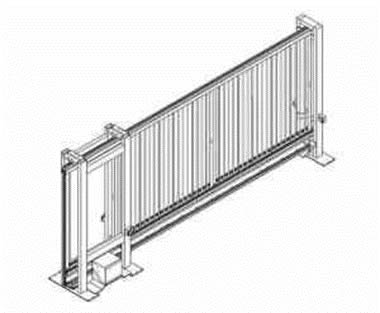 Folding gates also called Bi-Fold Gates. Most designs have two smaller metal leaves each side of the gate and they open at the center which allows it to open up faster. Some designs also incorporate wheels into the design.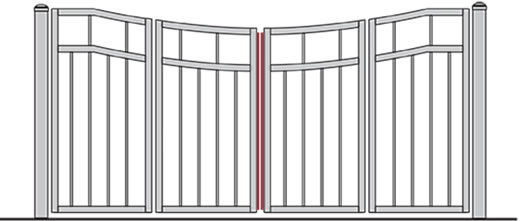 Consider the length of your Sliding Gate.
Measure your sliding gate's length before choosing the autogate system that will operate it.
Swing gates: Measure each Leaf of the Gate
Swing gates have separate leaves and they need to be measured for the autogate to be used. Autogate models can only handle a certain leaf length per gate. Shorter gate leaves need a different system than those with longer leaves.
How much does your gate weigh?
Gate weight is an important consideration for buyers looking for an autogate system. The material used in the construction of the gate usually determines its weight. Iron gates are the heaviest type of gate. Our strongest autogate system is built with a motor and a support system that can handle a gate weighing up to 5 tons.
Does the gate swing easily?
There are gates that are harder to open compared to others which means you have to install an autogate motor that's strong enough to swing your gate open easily. Gates that aren't easily opened may have low-quality build, damaged bearings/hinges, or bad design. Installing an autogate system alone won't fix this type of problem.
But, a heavy gate also means it's harder to open and if you've already checked its structure for maintenance, then, install an autogate that can operate a heavy load.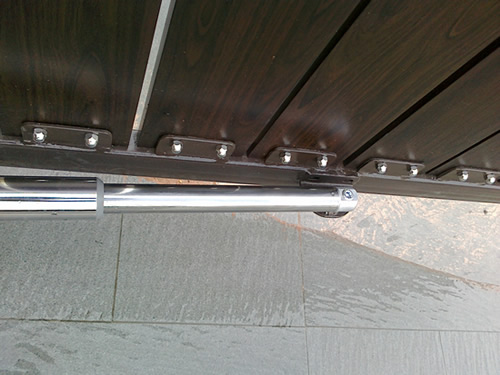 For problems in the gate structure, you must first fix the bad parts on the gate before installing your autogate. There are professionals you can hire to fix it.
Does your installation have 13A Power?
AC power is a commonly used power source for autogate system slide-type and swing-type gates. Owners should check for available power outlets near the gate. The lack of power source can be solved by extending the wiring from your home to the outside. Hire an electrician to lay down cables near your autogate. Our company, EE automation, offers an autogate installation service which includes electrical work for your autogate power source.
More Devices:
Number of Remote Controls
Autogates are operated using a remote control. Count the number of places where you commonly operate your autogate. A good baseline number would be one for your house and one for every car.
Push buttons installed inside your home
Manual operation of the autogate can be done using a push button. These are installed inside your home. This added convenience allows the residents to operate the gate manually from inside the house.
Infrared Photo Beam Installations
An infrared photo beam is a device which detects objects or people blocking the movement path of your gate.
Customized To Your Exact Requirements
We have a great team of engineers and technicians who have solid background and have many years of hands on experience on auto gate systems. We are able to customize a auto gate systems to suit your needs.
This is a special custom design double layer sliding gate.
Current Portfolio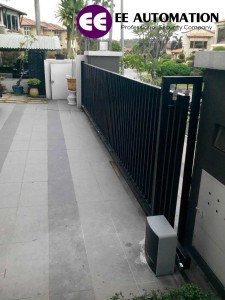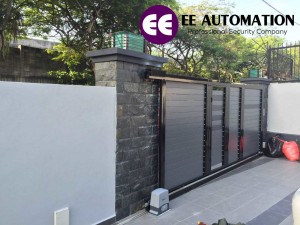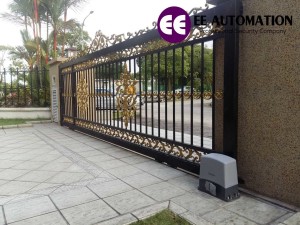 Why buy from EE Automation?
We deal and buy in bulk directly from the manufacturers, thus the savings are passed onto you.
Most of our replacement spare parts for your autogate systems are available on the spot. Even the small items such as 7ah battery, auto gate limit switches, springs and auto gate motors for older autogate systems.
We will keep the parts for around 12 years. You can rest assured that we will do everything we can to support your systems.
Another good reason to buy from us is our technical team. A hard working and dedicated technical department with long operating hours, waiting to serve you better.
Currently we are having 3 toyota hiace vans. All of our vans are equipped with the necessary tools such as long ladders, welding machine, hammer drill with different sizes of bits and underground autogate / arm autogate parts to complete your job request.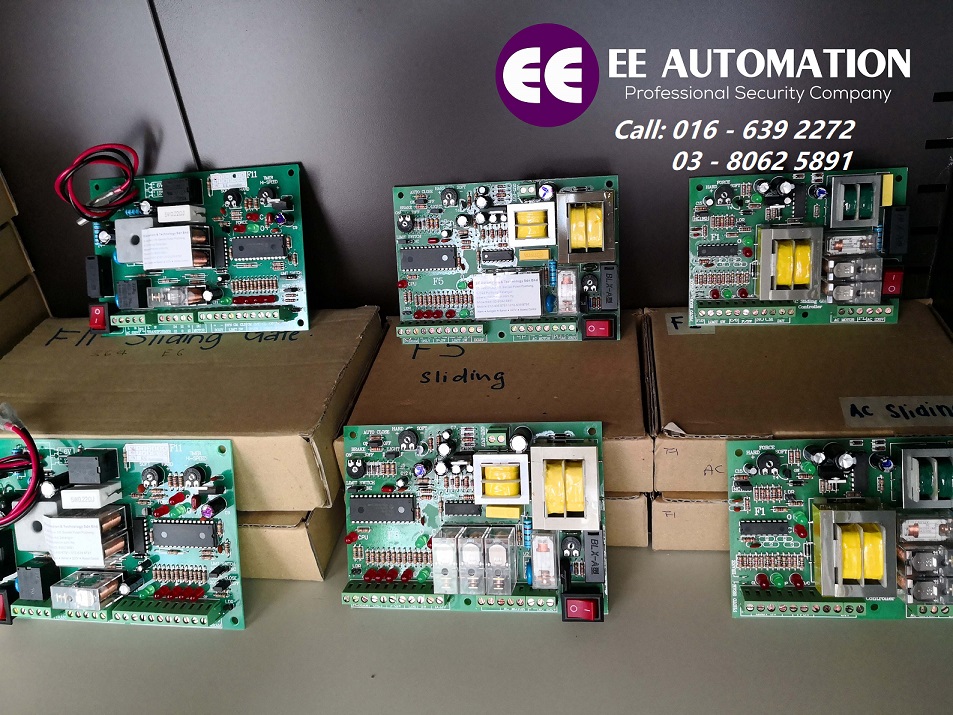 Control Panels (Auto Gate Control Board ) for underground and swing type Autogate Systems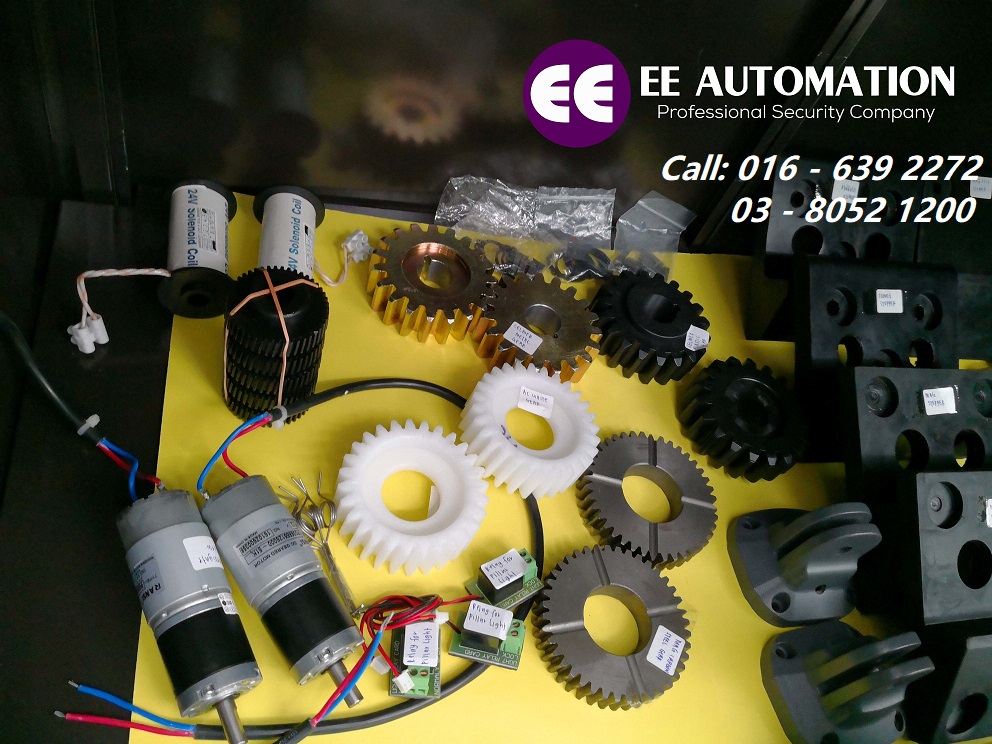 Auto Gate DC Motor, auto gate pinion gear, auto gate control panels, auto gate stopper and other auto gate spare parts are available from our showroom
Do you want to place an order? We will give you a 10% Discount if you contact us TODAY!
We sell and offer the best autogate services for our customers. Our professional autogate installers are well-trained and they will make sure you get a fully-operational autogate to give you convenience and the safety of your property and loved ones in your home. Once you know the autogate system that will work for your home you can contact us to order your own autogate today. EE Automation contact information: 03 – 8052 1200 and 016 – 639 2272.